08/11/2023 | Category: Markerstudy Group
Markerstudy colleague sets off on fifth charitable mission to Ukraine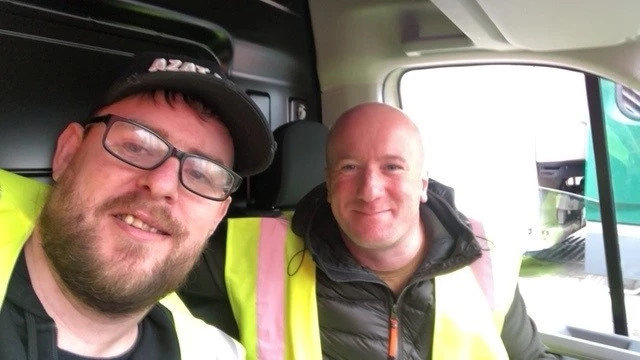 "You only live once. I want to make a difference, I guess," says dad of three
John Green, Legacy Portfolio Claims Manager at Clegg Gifford, part of Markerstudy Group, will be setting off on his fifth charitable expedition to Ukraine in early November to deliver food and clothing supplies to refugees affected by the ongoing conflict.
John will depart with seven friends and colleagues: John Gibson of Kennedys, Gary Mason of Progress Vehicle Management, Tony Allen of Insenture Underwriting, Ben Robertson of Robertson & Co, Patrick McCarthy of Horwich Farrelly, Adrian Gilbert of SX3 and Nick Hilton of Markerstudy Insurance Services Limited. Together they will deliver four ambulances and much needed clothing, food and supplies to Saint Nicholas Children's Hospital in Lviv.
The first ambulance has been funded by donations from Clegg Gifford, Markerstudy Insurance Services Limited and Kennedys, and Clegg Gifford has provided insurance cover for all four vehicles. UK non-profit organisation Casus Pax, which provides aid to the areas worst affected by the Ukrainian conflict, will fill one of the ambulances with £20,000 of medical supplies. John will deliver that vehicle to Casus Pax in Lviv, who will take it to the front line.
"In the past two years we've driven more than 10,000 miles and distributed over £100,000 of supplies in the process, but I still wanted to do more," explained John. "The support we've received once again has been overwhelming and really drives us to complete the mission.
"I've got three kids, so they panic every time I go away. But they do understand the bigger picture. My wife's not overly happy about it, although she's very supportive. But you only live once. I want to make a difference, I guess."
As if he wasn't busy enough, the contacts John has made through his efforts to help the people of Ukraine have secured him £45,000 in funding from Robertson & Co. This money will be used to add playgrounds to three schools in Africa, via Tony Allen's African Revival charity, after it was noted that playgrounds tend to encourage higher attendance levels.
To support John's next trip to Ukraine, please visit the following URL: